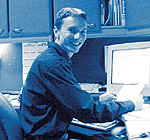 Would you like to join our team?
California-based Parasol Aviation, Ltd. is considered a highly successful and quickly growing developer and manufacturer of hinges for the aircraft industry, both in theUnited Statesand abroad. Our mission is to attain and preserve our customers' satisfaction by providing innovative, high-quality products and services.

The company's success is in large measure due to the efforts of our dedicated employees. Our team of engineers, machinists, designers, and office management staff helps to ensure that Parasol Aviation can deliver high-quality, competitively-priced products and services to our customers in a timely manner.

Our pay rates, salaries, and benefits are competitively set. We offer on-site, informal skills training to employees in an effort to foster in-house employment advancement and promotion, and reward employee loyalty with regularly scheduled raises.

If you would like to become a part of the Parasol Aviation team, first check below for any available job opportunities. Then, if you feel that you quality, call our human resources department at 818-352-3322 or email hr@parasolaviation.com to obtain an employment application.

We look forward to hearing from you!


CURRENT AVAILABLE JOB OPPORTUNITIES:

No openings currently available but please check back again soon. This area is continuously updated!