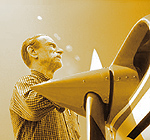 Parasol Aviation delivers customer satisfaction through innovative, high-quality products and services.
Wallace K. Lee - Founder With a Vision
The President and founder of Parasol Aviation, Ltd., Wallace K. Lee, is part of a large family of successful artists and engineers. He worked as a mechanical engineer for such companies as Aero Instrument, Radio Plane, and Northrop for a combined fourteen years before venturing out and starting his own business in 1966- a machine shop called Precision Engineered Products (EPL.) Some of the diverse projects of the business included manufacturing camera components; designing, manufacturing, and promoting electrical stagepin connectors for television and film production; and designing, developing, and manufacturing different components for aircraft.
Parasol Aviation, Ltd. is a Proud Supplier to:

BE Aerospace
Bombardier
C&D Zodiac
Classic Interiors Completions
DeCrane Aircraft, Inc.
Duncan Aviation
Embraer
Executive Aero Interiors
Garrett Aviation
General Dynamics
Gulfstream
International Jet Interiors
Innotech Aviation
Jet Aviation, AG
Learjet
Lifeport Interiors
Lufthansa Technik
The Nordam Group
Precision Pattern, Inc.
Raytheon
Savannah Air Center

Product Quality by Design
During an EPL business meeting, Mr. Lee had an idea for a line of aircraft component products that were unique in their quality and design. The response from customers was both immediate and overwhelmingly positive, and in early 1984, with seven full-time employees, Parasol Aviation was born and its first line of products was launched.
By April of 1989, Parasol Aviation had been incorporated, and with its series of hinges quickly gaining popularity, its sales and customer base increased ten-fold.
Our continual efforts to listen to our customers' needs brought new growth and new products during the 1990s, including a line of post-style inserts.
Innovating for the Aviation Industry
We currently offer many styles and variations of hinges and inserts and, with our customers' help, are pioneering new areas of product development.
Since our inception in 1984, we have been providing products and services to engineers, aircraft completion centers, and cabinet shops, across the United States and abroad.
As we continue to grow, we look forward to expanding our relationships with our customers to create more revolutionary products!
Yesterday, Today and Tomorrow
Our mission is to attain and preserve our customers' satisfaction by providing innovative, high-quality products and services.